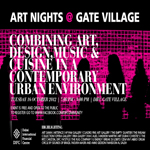 Art and culture enthusiasts in Dubai attended Art Night for the fourth time this year at the ever-popular Gate Village in DIFC. Like its past seasons, the event this time too successfully showcased some of the best works in art and mixed media.
Attending Art Night for the first time, I was pleasantly surprised by the vibrant and festive environment that greeted me. In the midst of creative works by established as well as up and coming artists, Art Night was definitely an inspiring evening. Accompanying the art was live music, food from the Ritz and activities such as manicures from the Nail Lounge, making the event popular amongst art lovers and non-lovers alike.
Of all the works on display, WO-MEN by Al Moutasim Al Maskery at the Empty Quarter gallery was very intriguing. Through his photos, Al Maskery explored the human personality and shot women dressed as Arab men, mirroring their look and personality. International art brand Opera Gallery featured many internationally acclaimed artists and also showcased famous street art of popular culture and icons such as Mickey Mouse. Known global artist Mr. Brainwash portrayed through a unique stamp how FMCG consumer brands interacted within art.
What is interesting to note is that many of the galleries at Art Night are strong brands both regionally and internationally and are now adding to the essence of DIFC. From being a brand that only represented finance and office space, DIFC, with it galleries and restaurants,  is now gaining ground as a brand that is a must visit destination for education and entrainment. Art night itself is becoming not only a calendar event, but is also adding to the sophistication and delivery of Dubai as a destination.
The next season of Art Night is scheduled for January 2013, and with a promise to be a mix of education and entertainment like every season, it'll be exciting to see what'll be in store next.