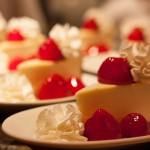 A promise of a world full of cheesecake, mouth-watering food, and a fun filled atmosphere, it is no wonder people are lining up at The Cheesecake Factory.
Having opened its doors to Dubai just a month ago, the restaurant has taken the city by storm. Not one to miss out on the city's latest, last night my friends and I ventured out to indulge in this world of sweet delight. Having heard the horror stories regarding the queues, we expected a wait but not the kind we actually faced. Three-long-hours! Defeated by food enthusiasts and social butterflies greater than us, we called it quits and headed home.
As disappointing as yesterday was, it made me wonder… why all the hype? The Cheesecake Factory in Dubai is the chain's first venture outside the United States. So why is it such a crowd magnet?
Of the many reasons that come to mind (like cheesecake being the sole fuel of life, obviously), the restaurant's location is definitely one that most stirs curiosity. Strategically situated right opposite the aquarium, it attracts the attention of passer bys. And let's face it, the never-ending queue, probably plays on people's psychology of "it must be worth the wait".  Furthermore, following the buzz created through social media, effective editorials and glorified word of mouth, it is no wonder the American brand has captured the attention of those looking for the 'new place to go' (guilty as charged).
Whatever the reason maybe, it is clear that The Cheesecake Factory is slowly but steadily establishing itself in the city. Once I actually make it inside, I will find out for myself if the brand's promise of "generous portions with unlimited, inventive menu selections, all made with quality ingredients, and served in a warm and casually comfortable setting" is delivered. Because it's one thing to attract the attention, but another to keep them coming back.