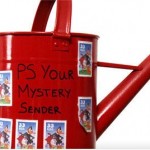 For 20 years, fashion guru Paul Smith has been receiving all manner of weird and wonderful objects through the post, and he has no idea who is sending them. Over time these objects have become a part of the designer's life, and his creative process.
Now director Ben Wigley has turned the bizarre tale into a film exploring the very nature of inspiration, and jolly good it is too – in fact it has just won the best documentary award in the Rushes Soho Shoots Film Festival.
PS Your Mystery Sender: Trailer from Benjamin Wigley on Vimeo.