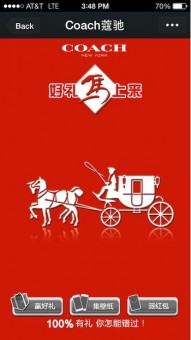 Over the past few years, social media has moved fast and has taken its hold in the world of business. Retail brands, in particular, are testing and learning how to increase their online presence and make their brand strategies work on social media platforms. American luxury leather goods company, Coach, is one brand that has managed to master Social Media. For instance, catering to its new market, China, Coach developed a campaign on WeChat titled "Win Gifts on Horseback", which is also a Chinese pun meaning 'win gifts immediately'. (WeChat  is a mobile text and voice messaging communication service developed in  China, first released in January 2011). The campaign comprises of three parts: draw for winning a handbag, a New Year's wallpaper download, and a red envelope with a gift card and coupon lottery.
To engage its online followers, Gap offered discounts on clothes through Facebook, Twitter and Instagram. Through a promotion where checking in on their Facebook page could make one win a free pair of Jeans and get discounts. Recently they successfully interacted with customers through Instagram by running a competition, inviting customers to engage and participate in #WIWT (What I Wore Today) to win a "denim GAP tablet case". This is a clever and fun way to engage and connect with customers, build communities and increase traffic into stores.
Coach and GAP had a clever approach, Social Media is a highly valuable tool for Fashion Brands, as if used strategically it can help connect with desired audiences, build communities and assist with getting customers into stores!