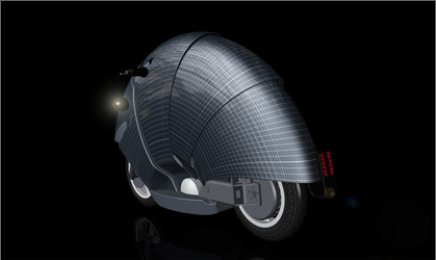 Designer: Oriol Guimerà & Joan Cinca (Spain)
Manufacturer: SunRed (Spain)
Material: solar cells and a transmission-less motor.
We hope to see this innovative mode of transport on Sheikh Zayed Road  Dubai soon…
It's an innovative project based on a motorcycle that is powered with solar energy. Its features define it as an urban vehicle – allowing the user to go at speeds up to 50km/h with a range of 20km. The curved and continuous form of the body, inspired in the biomorphic characteristics of armadillidiidae (pillbugs), integrates the solar panels, permitting it to charge and protect the motorcycle while parked.
Ideal for Dubai  sunny climate, our temperature been a balmy 44 outside today.